Welcome to Komodo Liveaboards .Com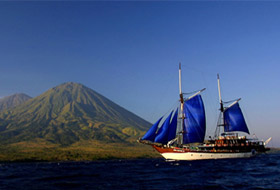 Liveaboard, or also called komodo liveaboard is the best way to explore the natural beauty and diversity of the underwater creatures in Komodo national park Indonesia. With liveaboard program, will give you satisfaction to explore the komodo's underwater world by diving or just snorkeling, and you can also do trekking tour on Komodo or Rinca island to see the ancient creature, komodo dragon.
We "Komodo liveaboards" has experienced since 2007 organizing diving liveaboard tour specially for Komodo national park and Raja Ampat areas. we have established relationships with most of the liveaboard operators that operating in Indonesia, especially for Komodo and Raja Ampat. so that we can provide the best package to suit with your budget and comfort request.
Komodo liveaboards website will give you all the information about the komodo liveaboard program, including the vessel information, komodo national park, komodo dive sites, water conditions, and the best time to diving in Komodo national park. So please continue reading this website to find the best liveaboard program and choose the vessel to your liking. if you do not find the options to your liking, please do not hesitate to contact us and we will be happy to help you to find that best suits with you.
Why Book With Us?
You will save your time to find the liveaboard program that you want. Here we have provided all the information about the komodo liveaboard in the one place, so you do not need to open the website one by one and then contact them, which sometimes will make you frustrated and confused to make choices.
---
Komodo National Park, Indonesia

komodo dragon habitat and world-class dive sites in Indonesia
Komodo National Park was established in 1980 with the main purpose to protect the endangered species "komodo dragon" and their natural habitat. Located approximately 200 nautical miles to the east of Bali, precisely between the island of Sumbawa and Flores islands. Administratively, the area is located within the District of Komodo, West Manggarai regency, East Nusa Tenggara Province.
indonesia map, komodo national park location
Komodo Diving Season: Komodo National Park is one place that has a very high marine wealth in the world, Good place to get a challenging dive and diving is world class. "You can dive in Komodo Marine National Park at all seasons but the best diving conditions are during April to Oct on all sites, and Des to March on southern sites of the park.